Hunterdude
: Nate, I somehow overlooked this thread until now but I am impressed! I love the concept and have a couple thoughts...first thought is that if you made it electric and played around with where the pickup was placed you could possibly GREATLY increase the tremelo effect...I know little about adding electric but have seen it offered on mountain dulcimers for $70 upgrade...Also water and electricity don't mix so you may want to scratch this idea completely! The second is you could build a very decorative dulcimer with the Bunt type pan or similar...my personal favorite color metal is Copper. Aluminum and Titainum are likely acoustically superior but who knows. Anyhow just wanted to give a big thumbs up and keep up the Great work...I may try one of these myself after I get a few more builds under my belt. Thanks for the inspiration!
Im sorry to respond so late to all these concepts. I'm not very good with the internet. While not 'very decorative' i did incidentally just finish a dulcimer with a copper colored aluminum pan that you might get a kick out of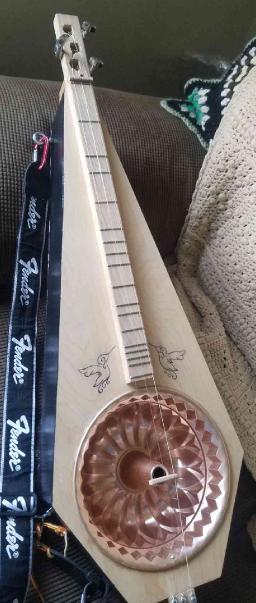 If you ever did end up building anything with the pans you showed or any others I'd really love to see them.
Nate