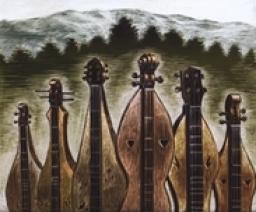 Friday August 14 2020, 6:00 PM
@ Santa Cruz, CA
Attendees: @Dusty Turtle, @Steve Eulberg, @Regina_Garson
The 20th Annual Redwood Dulcimer Day will be held on Saturday, August 15, 2020 and will be ONLINE this year!   This year's guest instructor will be the incomparable Stephen Seifert , who will be joined by resident instructors Neal Hellman , Peter Tommerup, Steve Eulberg , Janet Herman , Ron Beardslee, Laura Devine and Dusty Thorburn .
Stephen will offer a concert the evening of Friday, August 14.  And Saturday's festivities will include a lunch-time round-robin concert with all the instructors, some light aerobics and stretching to get us off our derrieres and listen to different types of music, and a playing circle for all after the workshops.
Santa Cruz was the center of a dulcimer renaissance in the 1970s, and now you can become part of that tradition, all from the comfort of your living room (or parlor, or porch, or . . . ).
For more information, please visit http://redwooddulcimerday.org/ .