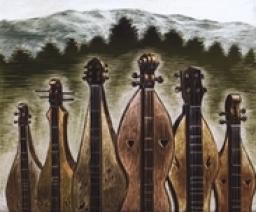 Friday August 20 2021, 6:00 PM
@ Online
Attendees: @Dusty Turtle, @Regina_Garson, @Steve Eulberg
The 21st Annual Redwood Dulcimer Day will be held on Saturday, August 21, 2020 and will be ONLINE this year!  This year's guest instructors will be Lois Hornbostel and Ehukai Teves , who will be joined by Neal Hellman , Jessica Comeau , Peter Tommerup, Steve Eulberg , Kevin Roth , Janet Herman , Ron Beardslee, Deborah Hamouris , Laura Devine and Dusty Thorburn .
Lois and Ehukai will offer a concert the evening of Friday, August 20, and workshops on the 21st will cover both mountain and hammered dulcimers for all skill levels. 
Santa Cruz was the center of a dulcimer renaissance in the 1970s, and now you can become part of that tradition, all from the comfort of your living room (or parlor, or porch, or . . . ).

For more information, please visit http://redwooddulcimerday.org/ .