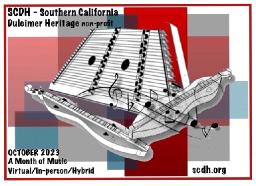 Saturday October 21 2023, 9:00 AM
@ Virtual, everywhere
Attendees: @Dusty Turtle
Mountain Dulcimer Day: Saturday, Oct 21 , 8 Teachers/Classes, 1 Link, $30/all day!                                  9-Noon & 1:30-4:30 (Pacific time). Students need only a free Zoom account. FEATURING:

Nina Zanetti - Playing with expression, technical strategies to play with feeling! 60'
Holly Tannen - Three major and two minor keys without tab or retuning! 60'
Pam Setser - Ozark traditional style fiddle tunes from her family tradition! 60'
Keven Roth - "Dulcimeditation" for mindfulness, select lullaby-like melodies. 30'
Grant Olson - All About Fingerpicking. Learn his simple yet masterful technique! 60'
Joellen Lapidus - 'Mandolin strum,' getting that fast tremolo, a powerful technique! 30'
Leo Kretzner - String-bending, bluesy left-hand notes on old-time songs. 30'
Bill Dempsey - Songs w Dulcimer, intros, endings, phrasing , & more! 30'
See www.scdh.org for details and other events of our Month of Music! See you online!!