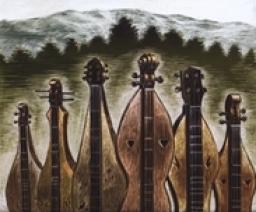 Friday August 19 2022, 6:00 PM
@ Online
Attendees: @Dusty Turtle, @Regina_Garson, @Steve Eulberg, @Robin Thompson, @MeganEleanor
The 22nd Annual Redwood Dulcimer Day will be held on Saturday, August 19-20, 2022 and will be ONLINE once again!  This year's instructors include Don Pedi , Aubrey Atwater ,  Jessica Comeau , Neal Hellman , Steve Eulberg , Kevin Roth , Karen Ashbrook , Janet Herman , and Dusty Thorburn .
There will be a faculty concert on Friday, August 19, and workshops on the 20th will cover both mountain and hammered dulcimers for all skill levels. 
Santa Cruz was the center of a dulcimer renaissance in the 1970s, and now you can become part of that tradition, all from the comfort of your living room (or parlor, or porch, or . . . ).

For more information, please visit http://redwooddulcimerday.org/ .