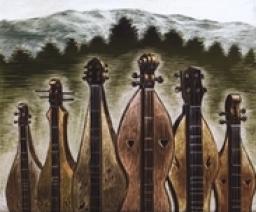 Saturday August 17 2019, 9:00 AM
@ Santa Cruz, CA
Attendees: @Steve Eulberg, @Dusty Turtle
The 19th Annual Redwood Dulcimer Day will be held on Saturday, August 17, 2019 at The Aptos United Methodist Church in Aptos, CA.   This year's guest instructor will be Tull Glazener , who will be joined by resident instructors Neal Hellman , Peter Tommerup, Steve Eulberg , Janet Herman , Ron Beardslee, Laura Devine and Dusty Thorburn .
In addition to workshops throughout the day, there will be a matinee concert by Tull Glazener and an instructor showcase in which each instructor will play a song and  discuss a technique used.
There will also be a special kids program led by Shelley Stevens of the Community Music School of Santa Cruz who will help kids build and decorate their own cardboard dulcimers in the morning, and then learn to play them in the afternoon.  Fun all around!  Space is limited, so register early.
For more information, please visit http://redwooddulcimerday.org/ .